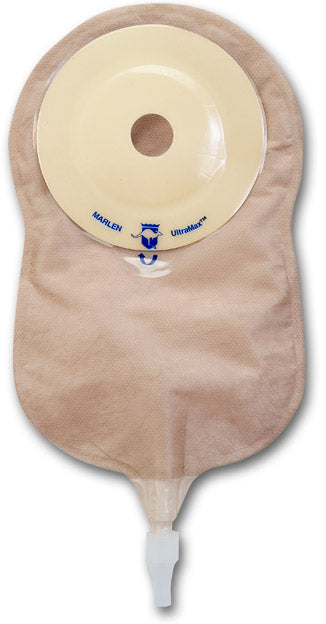 MARLEN
MARLEN 72519 UltraMax Urostomy No Tape
---
Marlen Manufacturing UltraMax One-piece Pre-cut Urostomy Pouch with AquaTack Hydrocolloid Shallow Convex Skin Barrier and Push-pull E-Z Drain Valve 3/4" Opening, 9-1/4" L x 5-3/4" W, Transparent, 16Oz, Odor-proof
Marlen Urostomy Pouches are proving increasingly popular with customers because of the comfort, flexibility and security offered by this international favorite. The unique push-pull drain tap allows for very simple emptying and is widely acclaimed by users in many countries. Once again the proprietary AquaTack delivers the skin fitting and with most needs met by customization of the cut to fit base, we really do have a winner here.
"Free-flow" stem allows unobstructed flow of urine flow into leg or night bags, even if pouch twists.
"Push-Pull" E-Z Drain Valve is permanently sealed to the pouch – no wet fingers when emptying pouch.
Non-return reflux valve.
Advantages of a one-piece system.
Ease of a disposable system.
Odor-proof pouch material.
Quiet, Built-in comfort cover facing the body.
Leak-proof for added protection and security.
---
Share this Product
---
More from this collection